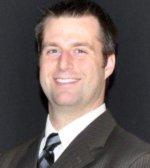 PJ Lynch, President
I have been in the financial and insurance services industry since 2005. I am originally from Halifax, NS and lived in that great city for 20 years. I played hockey all my life and following a four year career in the Quebec Major Junior Hockey League, I moved to Lethbridge to pursue my studies and play hockey with the Pronghorns. I graduated in 2005 with a Bachelor of Management degree and was fortunate to be recognized every year as a CIS Academic All Canadian while attending the University of Lethbridge.
I began my professional career in this industry in London, Ontario with my loving wife Ashley. I am the third generation to choose this career path following my Father and Grandfather, both of whom had over forty years of service. I get great satisfaction helping others and I consider this to be the best part of my job. I really enjoy the time that I spend with my clients and getting to know them both on a personal and professional level.
There have been two personal life events that I recently experienced that confirmed to me the importance of what I do and reassured me, that I have chosen the right career. Four years ago, I got the devastating news that my hero, my Father, had been diagnosed with cancer. It is always a scary word and it certainly shook our family to the core. He was fortunate that it was found early and I am pleased to report that he is doing well today. Through this experience, I felt firsthand how hard it was for both my father and my family to get that news.
The second big shock was when my daughter Brooklyn, at the time close to her first birthday, started experiencing several health issues that resulted in her spending more than four months total in various hospitals from Lethbridge to The Cincinnati Children's during 2011. She has a rare auto immune disease that has only ever been seen in less than ten children in North America. The roller coaster ride that my family has been on this last year and a half has been challenging.
Needless to say, family is the most important thing in my life and these personal experiences have grown my compassion immensely. It is my belief that the last thing that anybody should have to worry about during these most difficult times is their financial situation. My commitment is to never have my clients experience a financial burden at critical times like this. This thinking has shaped the philosophy of my practice. I will commit to do everything in my power to make sure that you, my client, are aware of the financial risks that are out there.